Japanese Fish with Long History - Shime Saba
Traditional Japanese cured Mackerel - Shime Saba
It is a highly nutritious fish that is very popular in Japan.
Most fish lovers consider them a great food choice for their incredible flavour and various health benefits.
It is now renowned for its global commercial value and widely featured on restaurant menus around the world.
It also won an award for its quality and taste.
---
What is Shime Saba?
- Moderate fat content, mild saltiness, and high levels of DHA/EPA -
It is a
type of mackerel fish
, cured to remove the salt contents and preserved in vinegar for several days. Originally eaten as a preserved food in the past. It is rich and has a strong flavour.
The curing keeps the fish raw inside, maintains good amount of oil while brings out the natural umami flavour of the mackerel.
A traditional dish, usually eaten as sashimi, as sushi, or as an appetizer. Simply defrost and serve. No additional cooking is needed.  Delicious with wasabi and soy sauce, or with green onions, shiso leaves, and ginger.
*Rice is not included in this product
---
Health Benefits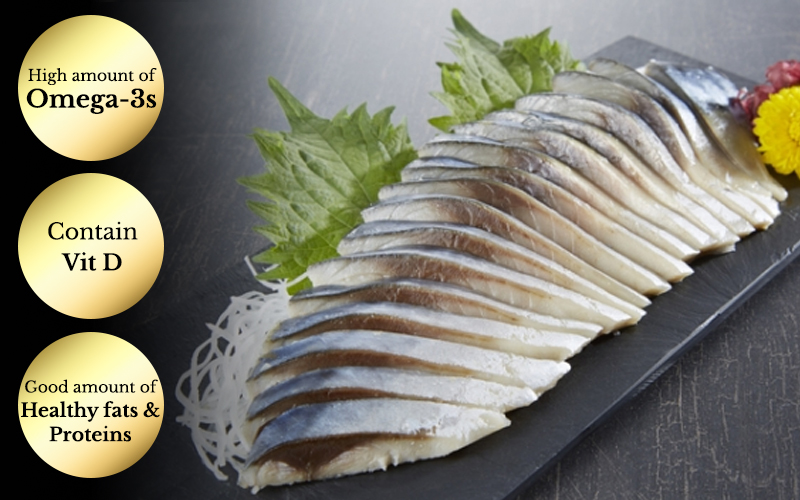 There are many
 well-known health benefits
of mackerel. As a
rich source of vitamins, minerals, and good fats.
High amounts of omega-3s (DHA and EPA)
These good fats are known to
 

reduce blood pressure and decrease the levels of cholesterol
 in your body.
it may help to
 

keep your heart and brain healthy.
Contain Vitamin D
This helps in the
metabolism of phosphorus and calcium
. Getting enough vitamin D can
lower your risk of bone loss and fracture
. 
Good amounts of healthy fats and proteins
Compared to carbohydrates,
 

fats and proteins are much more helpful

 
in lowering your levels of hunger hormone.
---
How is this Shime Saba special?
- A heritage since 1838, award-winning taste and quality -
From a mackerel specialty store since 1838, in Japan.

 
With their long history,
 

processed by skilled craftsmen with sincerity and their own integrated process
.
Skilled craftsman purchase raw fish at local fishing ports, Ogawa Port, Shizuoka prefecture from early in the morning. And start with an integrated process of freezing, manufacturing. storage to sales.
With this dedication from the craftsman, it has earned the prestigious "
Fisheries Agency Director-General's Award
" for its
 

exceptional quality and taste.